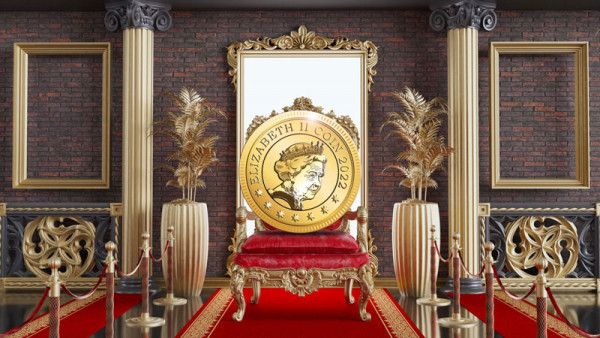 Central, Hong Kong, 15th Sep 2022 – Elizabeth II Coin is a newly launched crypto platform that provides the services of blockchain technology mint. The company is set to release its IDO Fairlaunch and Private sale next week in the recent development.
The platform Elizabeth II Coin works with NFT emerging artists – detailing the exquisite journey of Queen Elizabeth II from the new Queen to the respected head of state across NFT artwork. This way, the remarkable legacy of Britain's longest-serving monarch will live on for many years.
Furthermore, the newly established Elizabeth II Coin offers the following services for the convenience of its clients:
Ecosystem: The holders can use Elizabeth II Coin to buy NFTs, Metaverse, Gamefi, and payment of UK's hotels, retail shops, and online stores. 
Staking: Elizabeth II Coin incentivizes liquidity providers with high yield farms and pools to its users and as a reward for securing the Elizabeth II Coin protocol
Lottery: Holders will win tour packages to visit the United Kingdom
The token economics of Elizabeth II Coin goes as follows:
Symbol: ELIZABETH
Total Supply: 1,000,000,000,000,000 (100%)
Fair launch Sale: 280,000,000,000,000 
Private Sale: 50,000,000,000,000 
Liquidity: 139,944,000,000,000
Staking Pool: 224,456,000,000,000
Lottery Pool: 100,000,000,000,000
CEX Listing: 1,276,000,000,000,000
Marketing & Development: 100,000,000,000,000
The Tax of Elizabeth II Coin will be divided as follows:
2%: Diamond Hand
2%: Marketing
1%: Auto-Buyback
In addition, Elizabeth II Coin proposes the four easy steps to purchase the token. The steps are as follows:
1. Step: Install Metamask or Trust Wallet for Chrome
Clients can go to Metamask and install the Chrome extension. They must follow the steps from the guide and finish the setup. The exact process goes for Trust Wallet.
2. Step: Send BNB to Metamask
After installing Metamask or Trust Wallet, people can send BNB to their Metamask address from exchanges such as Binance, FTX, and Coinbase.
3. Step: Connect to PancakeSwap
Users must go to PancakeSwap (google it) and click the "Use PancakeSwap" button. When Metamask or Trust Wallet asks for the signature, users must sign it. The process is simply by connecting the client's trust or metamask wallet to pancakeswap.finance, so they are in sync.
4. Step:  Exchange the BNB for $ELIZABETH
Users can now exchange the BNB for $ELIZABETH. Set the slippage rate to 0.1% and buy  the token at the event amount.
About Elizabeth II Coin
Elizabeth II Coin is a newly launched cryptocurrency in the industry inspired by the incredible life of Queen Elizabeth II. The company would like to extend heartfelt sympathy to The Royal Family at this unfortunate time through this platform. 
Recently, the company launched the fair launch of presale and Private sales. Intending users and crypto enthusiasts must visit the following links for further information. 
Fairlaunch: https://www.pinksale.finance/launchpad/0x59756Ae959AEf98C5C12f4369291Be6e15382Aae?chain=BSC
Private Sale: https://www.pinksale.finance/private-sale/0x18A95AF1C67d8391Bc2D044bc81496Bcab3dFc9B/?chain=BSC
Media Contact
Organization: Elizabethiicoin.io
Contact Person: Cody Lai
Email: [email protected]
Website: https://elizabethiicoin.io
City: Central
Country: Hong Kong S.A.R.
The post Elizabeth II Coin launches its IDO Fairlaunch and Private Sale next week. appeared first on King Newswire.
Information contained on this page is provided by an independent third-party content provider. Binary News Network and this site make no warranties or representations in connection therewith. If you are affiliated with this page and would like it removed please contact [email protected]