Tallinn, Estonia, 7th November 2023, ZEX PR WIRE,  HashWars – a skill-based competition for digital assets – has officially launched, allowing users to win significant prizes of up to a few hundred USDT within minutes of gameplay. The competition uses patent-pending technology employing a proprietary communication protocol that ensures fair, real-time competitions, regardless of where players are based globally.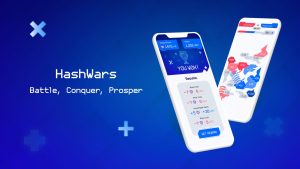 HashWars distances itself from P2E games that incentivize players with low or limited liquidity tokens. Instead, HashWars focuses on high-liquidity coins like USDT, enabling users to win prizes in a broadly used and popular cryptocurrency. Moreover, they can withdraw their gains to buy products and services outside the Metaverse.
Diving into the HashWars competitions allows users to gain insights into the intricacies of resource management, competition, and strategic decisions that resonate with real-world economic dynamics. This way, individuals have the chance to earn resources and create real economic value in an increasingly Metaverse-influenced job market.
The platform's developers commit to furthering metaverse advancements, harvesting and improving the products emerging from this virtual-reality space, such as digital land as non-fungible tokens (NFTs). To this end, early HashWars adopters may access prime digital lands, offering both prestige and potential financial returns. Owning these NFTs enables users to customize and monetize their virtual real estate potential in multiple ways, such as selling advertising space.
HashWars' release will occur in different phases. Firstly, the skill-based competition for digital assets will be launched. HashWars is now up and running in its beta version, and the next stage will launch the Metaverse competition platform, introducing a diverse array of exciting skill-based games and opportunities.
In the currently launched beta form, 4 players from different corners of the world can be matched with other players of similar skill levels, each choosing to play for up to 100 USDT and, within minutes, win 400 USDT in this cutting-edge skill-based competition.
Ultimately, HashWars offers more than just an innovative avenue for economic gains within the Metaverse. The project provides an immersive learning experience and a genuine opportunity for participants to demonstrate their abilities. Players can engage in fun, entertaining competitions that prioritize fair play and genuine expertise, thus ensuring the rewards reach those who put in the most effort and skills.
Participating in HashWars opens the door to a microcosm of real-world challenges, emphasizing diligent work for success. The platform provides education, entertainment, and practical skill development, besides a path to economic freedom supported by the latest technological advances.
Using patent-pending technology to support real-time, fair-play competitions for players worldwide puts HashWars at the forefront of Metaverse innovation. In the long run, the platform may redefine how we play and compete for money in the digital world and beyond.
You can learn more about HashWars at the following links: Website | Twitter | Instagram | YouTube | TikTok| Telegram
The Post HashWars: Redefining Prosperity with Skill-Based Challenges in the Metaverse first appeared on ZEX PR Wire

Information contained on this page is provided by an independent third-party content provider. Binary News Network and this Site make no warranties or representations in connection therewith. If you are affiliated with this page and would like it removed please contact [email protected]