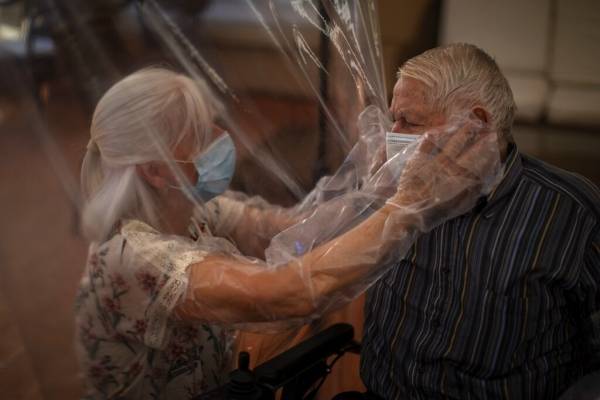 Still wrapped in plastic, a hug can convey tenderness, relief, love and devotion.
The fear that gripped Agustina Cañamero during the 102 days that she and her 84-year-old husband spent physically separated during the coronavirus outbreak in Spain dissolved the moment the couple hugged separated by a thin layer of plastic.
AP
AP
Pascual Pérez, her husband, lives in a nursing home in Barcelona, ​​one of many that prevented visitors from entering to try to protect their residents from the coronavirus, which claimed the lives of many elderly people in the country.
Cañamero, 81, was quarantined in the house he used to share with Pérez. In their 59 years of marriage, they have never spent so much time apart.
AP
AP
That is why when the senior center Ballesol Puig i Fabra allowed visits to resume with the added protection of the plastic sheets, Cañamero was one of the first to arrive. The couple kissed for minutes through the thin plastic layer and their masks.
Others repeated their emotional reunion several times on the same day, plunging residents, visitors, and even excited staff into a wave of healing energy.
AP
AP
Beatriz Segura carefully put on her long gloves before putting her arms through the two holes in the plastic curtain to hug her 96-year-old mother. It was the first time they had met in person since March 15.
As center staff members wept at a respectful distance, mother and daughter spoke. Segura said he was hoping to get his mother, Isabel López, out to eat at a restaurant. But she replied that her priority was to go to the hairdresser.
AP
AP
AP
Dolores Reyes, 61, and her father, José Reyes, 87, also met after about four months. In their effusiveness, they threw the screen when hugging.
Officials at the Ballesol Puig i Fabra center did not disclose how many residents became ill with COVID-19 or died during the outbreak, citing an open judicial investigation. Spanish nursing homes were particularly affected by the virus, which has killed at least 28,300 people across the country.