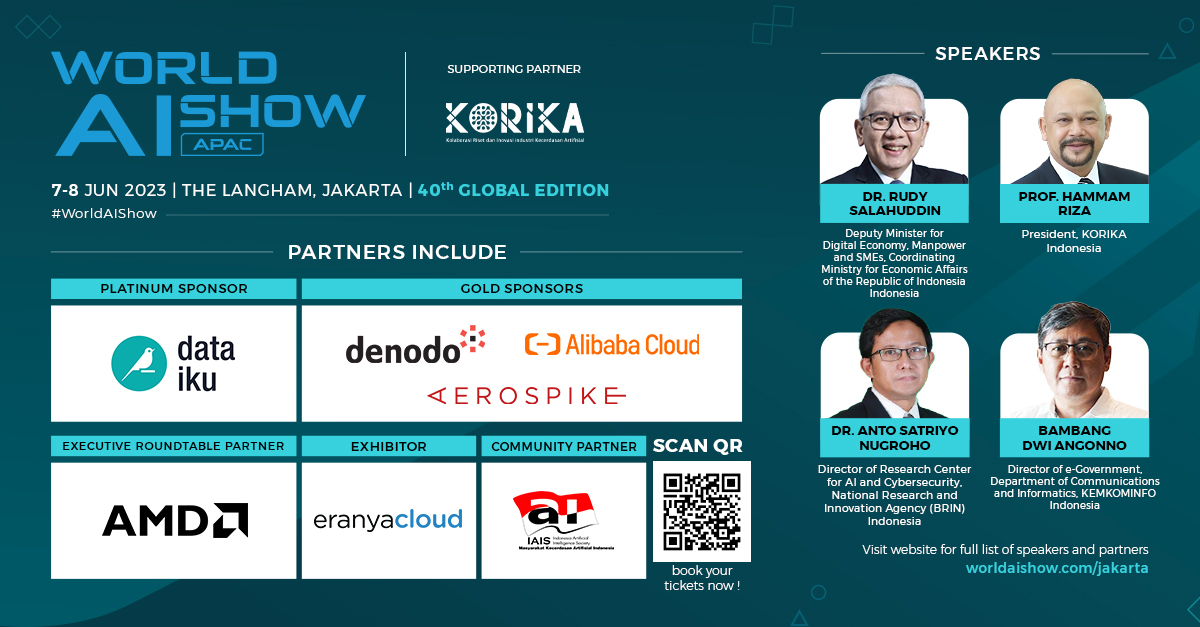 The world's longest-running AI show series is hosting its 40th edition in Jakarta, Indonesia. Attendees will once again bear witness to next-gen solutions like AI, IA, Robotics, and Generative AI from global leaders and explore their relevance and impact on their organization.
Bangalore, India, 19th May 2023, ZEX PR WIRE, With premium sponsors and partners, an ecosystem of more than 5,000 start-ups, and more than 20,000 delegates each year, the World AI Show global series enjoys the support of the IT world's elite. Known for providing a platform for sharing ideas, insights, and trends, Trescon's World AI Show is scheduled to take place on 7th & 8th June 2023, in Jakarta, Indonesia.
The central theme of this edition is using AI to enhance digital transformation. The aim of the conference is to address industry-wide challenges using innovative AI solutions to bring about significant changes in industries that are strategically important to Indonesia.
The world's longest-running AI show series assists businesses in accessing relevant and reliable information pertaining to AI and Web3 technologies to stay ahead of a rapidly changing market for company-wide success.

The World AI Show will allow business and tech leaders from around the world to connect, share ideas, and learn from each other under one roof. The World AI Show combines the most recent technological developments with real-world applications of AI to address problems in businesses. Attendees can interact with AI researchers at the forefront of their fields and explore real-world case studies to learn about the business value of AI, owing to our unique blend of academia and industry. Tech giants, as well as leaders from governments, startups, internationally recognized universities, and investment firms, will speak at the World AI Show.
Prof. Hammam Riza, President, KORIKA
"

World AI Show brings together all stakeholder in accelerating National AI Strategy (Stranas KA) in Indonesia
NSekar, Chief Technology Officer, Blibli
"

Excited to be part of the Indonesian tech ecosystem and the innovations that are being launched out of Indonesia. I am looking forward to learning from what the Indonesian tech ecosystem is creating that can be adopted by other parts of the world."

Indra Hidayatullah, Data Management & Analytics Division Head, PT. Bank Tabungan Negara (Persero) Tbk
"

It's a well-organized and very interesting event. We'll explore best practices and new ideas in digital transformation and improve customer journey, especially by optimizing Artificial Intelligence."
Dr. Irvan Bastian Arief, VP of Data Science and Machine Learning Engineering, tiket.com
"

The 40th World AI Show is a great event to gather artificial intelligence (AI) and machine learning (ML) related global leaders to share, talk and discuss the advancement of AI and ML to push the maturity of this technology. As an expert in this domain, I want to share my knowledge with a greater audience and, at the same time, learn from other experts. I hope the 40th World AI Show will be massively successful."
Antonius Tan, Chief Digital Business Officer, Sequis Life
"

World AI Show has always been the most-wanted event to collaborate with like-minded professionals to exchange knowledge and expertise in the field."

Christophe Hubert, VP of Engineering, EdenFarm
"

As the world continues to shift towards AI-centricity, the World AI Show provides a global forum for thought leaders and innovators within the AI industry. They come together and collaborate, share knowledge, and explore the latest cutting-edge technologies in AI."
The show will cover in-demand industry topics like:
How will Indonesia deploy AI to accelerate economy and digital transformation

Exploring AI in the Metaverse

How AI, cloud, and improved connectivity are helping organizations to be more adaptive to a fast-changing world

Reinventing Cyber Security with AI

How AI will transform businesses

Digital Transformation & AI: Is your organization ready?

Bringing the power of AI to the Internet of Things

Harmonizing Analytics, AI & Cloud in your organization

 Powering the future of Banking with AI in Indonesia

Achieving Sustainable Development Goals through AI innovation

Deep dive into Generative AI
This is what leading organizations have to say about their previous experiences at World AI Show:
"We'd like to acknowledge Trescon for all the great efforts and structured organization with thorough follow-up and accommodation." – Microsoft.  
"It's been exciting, and exciting, and we think there is a lot of opportunity here, which is great." – Denodo.
"Exchanging ideas at an event like this really opens our thinking and helps to think about things differently. It was a great event." – Snowflake.
Some of our notable speakers include:
Prof. Hammam Riza,

President, KORIKA, Indonesia

Dr. Anto Satriyo Nugroho,

Director of Research Center for AI and Cybersecurity, National Research and Innovation Agency (BRIN)

Bambang Dwi Angonno,

Director of e-Government, Department of Communications and Informatics, KEMKOMINFO

Dr. Rudy Salahuddin,

Deputy Minister for Digital Economy, Manpower and SMEs, Coordinating Ministry for Economic Affairs of the Republic of Indonesia

Nani Hendiarti,

Deputy for Coordination of Environment and Forestry Management, Ministry of Maritime Affairs and Investment of the Republic of Indonesia

Raine Renaldi,

Chief of Economy & Digital Asset Committe, KADIN – Indonesian Chamber of commerce & Industry

Dr. Lukas,

Co-founder and Chairperson, Indonesia AI Society

Juan Kanggrawan,

Head of Product, Data, Tribe, National Ministry (GovTech) & Smart Cities

Dr. Irvan Bastian Arief,

VP of Data Science and Machine Learning Engineering, tiket.com

Sonny Supriyadi,

Head, Pricing & Data Analytics, Maybank Indonesia

N Sekar,

CTO, Blibli

Edmund Situmorang,

Chief Technology Officer, PT. Asian Bulk Logistics

Indra Hidayatullah,

Data Management & Analytics Division Head, PT. Bank Tabungan Negara, Tbk.

Indra S. Adillah,

Head of ICT, PT. Indonesia Airasia

Christophe Hubert,

VP of Engineering, EdenFarm

Dr. Sankaraiah Sreeramula,

Chief Data Scientist, APP Sinarmas

Antonius Tan,

Chief Digital Business Officer, Sequis Life

Mr. Shitalkumar R. Sukhdeve,

Senior Data Scientist, PT. Smartfren Telecom
"The power of AI is limitless. At World AI Show, we are committed to showcasing the potential of AI & RPA in transforming our world and creating a brighter future for all. Our topics are current and address questions and challenges that are faced by decision makers across the world. Our carefully curated lineup of speakers is a medium to showcase the future of AI & RPA to the world. We look forward to hosting this event with great anticipation," says Mithun Shetty, Vice Chairman, Trescon.
World AI Show is sponsored by:
Platinum Sponsor: Dataiku
Gold Sponsor: Denodo | Alibaba Cloud | Aerospike
Executive Roundtable Partner: AMD
Exhibitor: Eranyacloud
and Supported by KORIKA
About Trescon
Trescon is a global business events and consulting firm that provides a wide range of business services to a diversified client base. Trescon is founded and managed by a group of specialists with more than 8 decades of combined expertise in successfully developing business events, trainings and consulting for corporates, governments, associations and high-net-worth individuals across the world. With a deep understanding of the realities and requirements of the growth markets we operate in – we strive to deliver innovative and high-quality business platforms for our clients.
For further details about the announcement, please contact:
Nupur Aswani
Head – Media, PR, and Corporate Communications, Trescon
+91 95559 15156 | [email protected] 
The Post Trescon's globally renowned World AI Show to host its 40th edition in Jakarta first appeared on ZEX PR Wire

Information contained on this page is provided by an independent third-party content provider. Binary News Network and this Site make no warranties or representations in connection therewith. If you are affiliated with this page and would like it removed please contact [email protected]