Shenzhen, China, 22nd Dec 2022 – According to data analysis platform Nansen's Smart Money (the wallet owned by the elites in the encrypted world), it can be observed that Smart Money is currently transferring funds to many high-quality DeFi platforms such as Compound, Aave, and wBTC.
According to incomplete statistics, about $55.6 billion is currently locked in DeFi smart contracts, which is only 31% of the high point of $182 billion in December 2021. Maker's TVL (Total Value Locked) dominance of 13.98% is much lower than its dominance of over 50% during 2020. This also indicates that the market dominance of traditional DeFi giant platforms is declining rapidly. Some high-quality DeFi star platforms are constantly occupying their respective markets and investing a lot of energy in "fan" loyalty. Complete community DAO governance has become an important factor.
The liquidity aggregator and multi-chain intelligent income engine developed by the AntSwap team can integrate a variety of DeFi protocols to help retail investors access DeFi without technical barriers. In the old days of Web 2.0, you created a system of bank accounts in multiple countries and different currencies, and then used those accounts to transfer funds. The process is complex and involves not only many banks, but all the infrastructure behind those banks, which are not necessarily connected (such as SWIFT and IBAN). Things get more complicated when buying financial products or assets from these accounts. This is why getting new retail investors into the trading market is a daunting process. Simplifying the process of user access is an important goal for the sustainable development of financial platforms.
It is understood that the decentralized DeFi platform that the AntSwap team is currently building on the liquidity aggregator is committed to providing users with Web3.0 DeFi transactions that obtain multiple benefits through native tokens and a single platform. AntSwap related personnel said that the current development team is building the most comprehensive liquidity aggregator in the market, which will aggregate the liquidity of major centralized exchanges, decentralized exchanges and exchange pools on the AntSwap decentralized platform.
At the same time, AntSwap has built a series of solutions to solve practical problems among the many problems faced by DeFi such as market liquidity, adoption rate and accessibility. It has completed the advanced liquidity aggregator protocol (AntSwap Protocol) and focused on generating income Streaming product offerings. At present, with ANT tokens as the core, NFT+GameFi income-based products have been formed, including trading APIs, trading widgets, DEX toolkits, high-profit DEXs, exchange liquidity enhancement plug-ins, and more. Among them, AntSwap trading API is used as infrastructure, which embeds powerful tools, signals and functions to ensure users to conduct the most intelligent transactions at the best prices.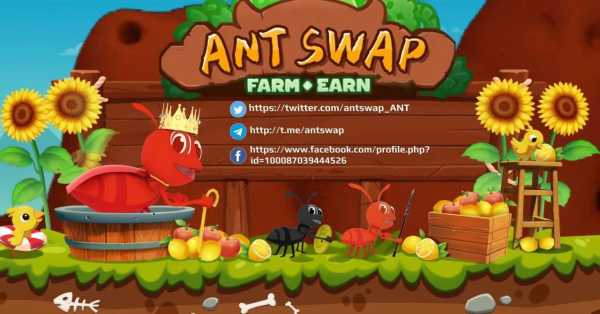 AntSwap provides users with financial access to all encrypted assets through the liquid market. From the perspective of vision, the project hopes to create a one-stop DeFi platform to lower the threshold for using DeFi protocols, maximize the composability of DeFi, and ultimately help decentralized finance eliminate middlemen, minimize trust, and popularize the market. Its platform currently provides a complete closed-loop DeFi activity of intelligent flash swap of assets on the chain. As an important value transmission medium in the DeFi ecosystem, smart flash swap allows individuals and institutions to safely and quickly execute smart contract-based flash swap agreements on the public chain.
After the user completes the connection to the decentralized wallet on AntSwap, he can easily complete various DeFi activities on the interactive front-end (dashboard). At present, AntSwap provides users with solutions including but not limited to: custody, trading, token flow, encrypted subscription, cross-chain integration and other DEX.
According to the announcement on AntSwap's official website, its native token ANT will be launched on major exchanges in phases in Q1 of 2023, and the NFT ecological expansion will be carried out simultaneously.
Media Contact
Organization: antswap
Contact Person: Thi Truong
Email: [email protected]
Website: https://antswap.vip
City: Shenzhen
Country: China
The post AntSwap a rising star of Web3.0 encrypted finance, is actively exploiting the composability of DeFi appeared first on King Newswire.
Information contained on this page is provided by an independent third-party content provider. Binary News Network and this site make no warranties or representations in connection therewith. If you are affiliated with this page and would like it removed please contact [email protected]