Nashville, Tennessee, 30th October 2023, ZEX PR WIRE, Rising country music sensation, Tayler Holder, has achieved yet another milestone in his already illustrious career. Holder's hit single, "Someone You Knew," has soared to the Top 5 position on the highly acclaimed Amazon Music Unlimited Breakthrough Country Playlist, solidifying his status as one of country music's most promising stars. Tayler Holder, a Texas-born artist with a heart for country music, has been captivating audiences with his unique blend of traditional and modern country sounds. His journey from small-town Texas to the heart of country music in Nashville has been nothing short of remarkable. With the success of "Someone You Knew," Tayler has solidified his place in the country music scene.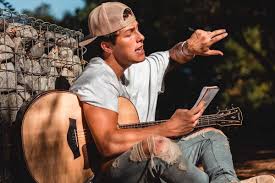 Tayler Holder's latest single, "Someone You Knew," encapsulates his distinctive style and heartfelt storytelling. With its soulful lyrics and captivating melodies, the song resonates with audiences on a profound level, making it a perfect fit for the Amazon Music Unlimited Breakthrough Country Playlist. Holder's meteoric rise on TikTok, where he now stands as the most followed country music artist, has played a crucial role in his success. His ability to connect with a diverse and global audience has introduced countless music lovers to the magic of country tunes. As "Someone You Knew" continues to climb the charts, it is evident that Tayler Holder's captivating vocals and relatable lyrics have struck a chord with listeners worldwide. 
As his popularity grows, so does his impact on the country music scene. With "Someone You Knew" being featured on Amazon Music Unlimited's Breakthrough Country Playlist, Tayler Holder joins a list of country music heavyweights and cements his place among the genre's top talents. His unique sound and heartfelt lyrics showcase his authentic love for country music, making him a breath of fresh air in an industry that is constantly evolving.
Commenting on this latest achievement, Tayler Holder said, "I am beyond grateful for the amazing support of my fans and the incredible opportunities that have come my way. Country music has always been a part of me, and it's an honor to see 'Someone You Knew' embraced by the Amazon Music Unlimited Breakthrough Country Playlist. I can't wait to share more of my music with the world, and I owe it all to my devoted fans who inspire me every day."
Tayler Holder's journey from Texas roots to the heart of country music serves as an inspiring tale of determination and passion. He is an artist whose authenticity, talent, and commitment to his craft are taking the country music world by storm, earning respect and admiration from fellow musicians and fans alike. As "Someone You Knew" continues to climb the charts and captivate audiences, there's no doubt that Tayler Holder is an artist to watch out for in the country music scene, and his genuine connection with his audience is the secret to his success.
About Tayler Holder
Born on August 19, 1997 in Alvarado, Texas, Tayler Holder grew up in a family that valued hard work and perseverance. His love for music began at a young age, and he quickly developed a talent for singing and playing guitar. Tayler Holder has always been an entertainer. At just 3 years old, Tayler began competing in motocross, an interest that Tayler still holds to this day, but which is more of a hobby now. After finishing high school, Tayler moved to California to follow his dream of being an entertainer. He started creating content for Instagram and Musical.ly, and his popularity quickly grew on the platforms with his viral lip sync videos and daily lifestyle content. With the online series DIRT, Tayler Holder then launched his acting career playing the main character Luke, who deals with love and addiction and draws on Tayler's experiences with motocross. After joining TikTok, Tayler quickly grew to millions of followers on the platform, continuing to create viral content, Tayler releases new music and performs at live events and festivals across the country. 
Today, Tayler Holder continues to create lifestyle content for his fans on social media, but he is now focusing a majority of his energy on his music career as things are quickly taking off for this talented singer-songwriter. Having moved to Nashville, Tennessee, has helped Tayler as he focuses on his country music career. In 2023, Holder was named Male Artist of the Year and Artist of the Year by Up N Country, a well-known country music outlet dedicated to promoting the best and brightest in the genre. He has recently become the most followed country music star on TikTok. Despite his success, Tayler remains humble and grounded, and is grateful for the support of his fans and family. He credits his Texas roots and his love of traditional country music as the driving forces behind his success.
The Post Tayler Holder's New Single Someone You Knew Featured in Amazon Breakthrough Country Music first appeared on ZEX PR Wire

Information contained on this page is provided by an independent third-party content provider. Binary News Network and this Site make no warranties or representations in connection therewith. If you are affiliated with this page and would like it removed please contact [email protected]