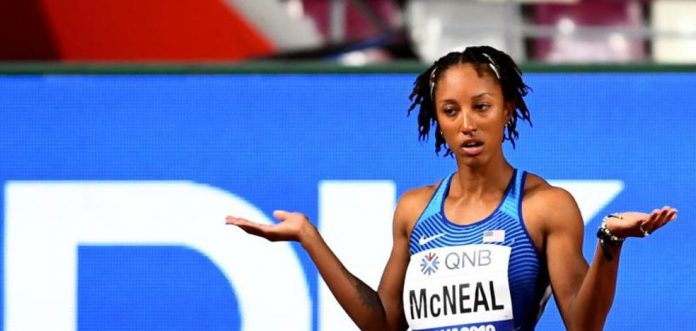 The american Brianna McNeal, olympic champion in 100 metres hurdles at the Games of Rio 2016, has been suspended provisionally for "obstructing the process of anti-doping", as announced this Thursday, the Unit of Integrity in Athletics (AIU).
The agency accuses the athlete of 29 years of "having obstructed the process of results management, a violation of the anti-doping rules of the International Federation of Athletics", without offering more details.
Seven months of the Olympic Games of Tokyo, this decision is a new blow to the athletics u.s., in which one of their big stars, sprinter Christian Coleman, he was suspended two years for missing three times to its obligations to localization of anti-doping. The current world champion of 100 meters appealed this sanction to the Court of Arbitration for Sport (CAS).
After winning the gold in the River, when it had already been won in the World cup in 2013 in Moscow, McNeal was already suspended for a year between 2017 and 2018 by missing three times to their obligations of localization anti-doping and lost both the World of London in 2017. Back to the competition in 2018, was disqualified for a false start in the World cup series in 2019 in Doha.
Since several months ago, the doping cases occur in the first olympic sport, and relate primarily to shortcomings in regard to the obligations of localization. In June of 2020, it was the bahraini Salwa Eid Naser, world champion of the 400 meters, was suspended provisionally for this reason, before being acquitted on 20 October by the disciplinary tribunal of the International Federation of Athletics (World Athletics). The AIU appealed this decision to the CAS.
The south african Luvo Manyonga, silver at the Rio Games in long jump, was provisionally suspended on Friday, and the kenyan Elijah Manangoi, world champion of 1500 meters in 2017, was sanctioned with a two-year suspension in November, always for missing the obligations of localization in anti-doping controls.